While FOAVC has, up to now, published the Article V Convention Legislative Report published by Georgia attorney David Guldenschuh, FOAVC believes that this report presents inaccurate information regarding Article V Convention applications by the states.
The report does not accurately reflect the actual state of current applications on file with Congress. We suggest those wishing to see the overall record of applications
examine this link
showing the applications grouped according to application sets. The Constitution does not require state applications be on the same amendment to cause Congress to call a convention nor does it require state submit multiple applications before Congress is required to call a convention. Instead the Constitution mandates, with no political terms or conditions whatsoever, that if two thirds of the state legislatures submit applications Congress must call a convention based on that set of applications. Thus, Congress is currently mandated to call eleven conventions.
The AVC Legislative Report is as far as is known, the only source of information regarding current efforts by various political groups to obtain new applications to be submitted by the various state legislatures to Congress. These groups erroneously believe only if two thirds of the states submit identical applications on their particular application is Congress then mandated to call a convention limited, of course, to only their amendment issues. Further these groups may claim an application as supporting their political movement when the facts speak differently such as is demonstrated
by a recent application by the State of Arizona
. We urge all to read the actual documentation of the application available on our site to reach any conclusion regarding any application.
FOAVC emphasizes: the states have long since achieved the necessary two thirds submissions required to cause a convention call. The courts have never ruled applications must be on the same amendment subject in order for Congress to be required to call a convention. On
May 5, 1789
, Congress established the process for the handling of state applications for a convention call. That process was based on a numeric count of applications with no other terms or conditions described. The process continues to this day.
The most current version of the AVC Legislative Report (November 13, 2017) is shown below (click to enlarge):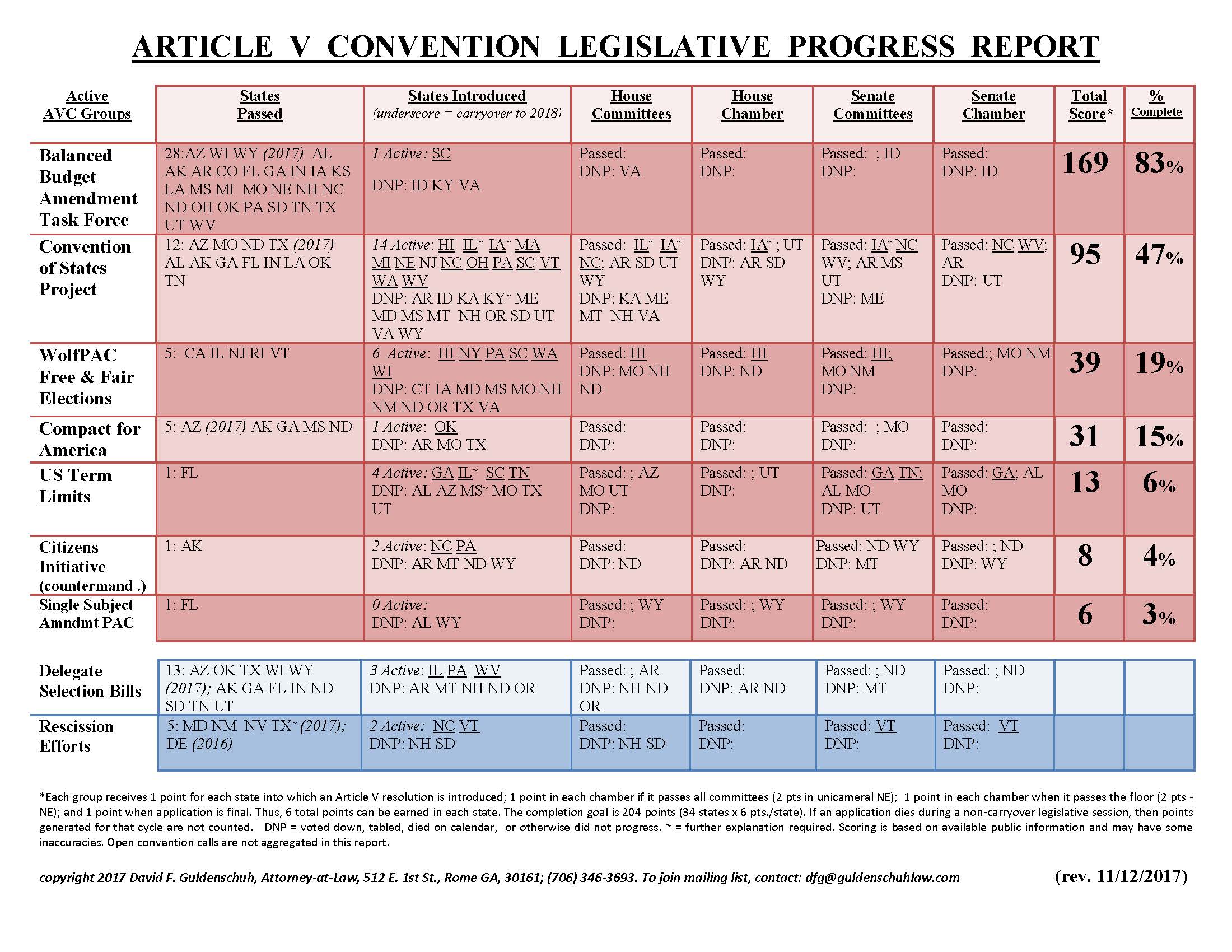 Starting May 31, 2015, FOAVC will publish on a periodic basis, the Article V Convention Legislative Progress Report created by Georgia Georgia attorney David F. Guldenschuh. Mr. Guldenschuh's report summarizes the efforts of various political movements attempt to get various state legislatures to submit applications for an Article V Convention based on "their" amendment proposal/subject.
More....
*****

In September, 2015, Mr. Guldenschuh
released a report
on the progress of various political groups in the Article V movement. The report, while dated, nevertheless presents a good over all view of those groups attempting to use the Article V Convention to advance a specific amendment. The report does mention FOAVC but accurately states FOAVC is a non partisan organization favoring no specific amendment proposal.